Dear Sir / Madam
It was lovely to see so many of you at the London Alumni Cocktail party on 20 June. Thank you for coming and for making the event so successful and I am only sorry I couldn't get round to speak to more of you.
The Royal Exchange has become a good venue for these events and I am immensely grateful to Jane and her team for making everything happen seamlessly, including the never ending supply of food and of course keeping a watchful eye on the drinks situation! There are hundreds of photographs of this event together with past events held on our website.
More events are planned for the autumn, details of which are set out below. We will keep you informed of any others planned in future newsletters andon the website. If you are organising a social event for your former KPMG colleagues and would like help with the planning and data please let us know.
The positive feedback, both at the event and from emails received on the new digital version of Connected 2013 has been very encouraging as the firm continues with its Digital First campaign. If you have not yet seen Connected the links to the latest magazine are below.
Many congratulations to Michael Fowle who on 16 October 2013 will be installed (for a year) as Master of the Chartered Accountants Livery Company. He very much hopes that all the KPMG colleagues and former KPMG colleagues who are members of the Company will be able to join him at the Installation Dinner in Goldsmiths' Hall. Michael was senior partner of London office and the South East Region from 1993-1998, having formerly been head of the UK audit practice and head of the global banking practice.
I must also mention Richard Agutter who was elected as the Prime Warden of The Goldsmiths Livery from April this year. Richard was a senior partner in corporate finance for many years.
If you have any queries please do not hesitate to contact me or Jane and may I take this opportunity to wish you a great break over the summer.
Kind regards


Richard
---
Forthcoming Events
We are arranging events in London for those who joined the firm in 1983, 1988 or 1993 and other events will be held around the UK.
To ensure that you are invited to relevant events we need your correct year of joining, office and department/sector if known. Pleasecheck your details on the directory and update them if necessary.
Visit our events page if you joined in 1983, 1988 or 1993 to register for your invitation.
---
Connected 2013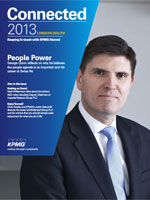 For those of you who have not seen it, the latest edition of Connected features articles on the following alumni:
George Quinn, CFO of Swiss Re

Mark Williamson,

Deputy Chairman and NED of Imperial Tobacco Group PLC and NED of National Grid Plc

Deena Mattar, NED of Invensys Plc

Chris Denley, Group Financial Controller of Whitbread Group Plc

The Rt. Hon. The Lord Michael Heseltine

Saadi Hussein, Director of Mobile Products and Services of WiSys Limited

Laura Andrikopoulos, Astrologer

Victoria Novis, Entrepreneur and Owner, Nuba Cocktails

Alan Semple, CFO and Director of Wood Group PLC
as well as articles about Cyber Security and Tax Transparency.
Regional versions are available to be downloaded on the Alumni Website
---
Business Instinct Survey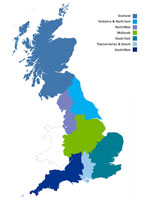 In May 2013, we surveyed over 500 business contacts from across the UK to find out what local business leaders think about the prospects for growth and the changes ahead.
Read the results from your region
---
P3- People powered performance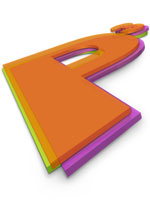 P3brings together expertise from across our organisation to create smarter workforce solutions. It also brings together the expertise in your organisation by uniting the efforts of the CEO, CFO and HRD.
The world of work in the 21st Century is changing.
---